Our Homepage "Vodice-Holidays.com" presents the TayLa-Apartments. TayLa-Apartments are apartments in Vodice, in Croatia at the Adriatic coast in Dalmatia.
Vodice-Holidays stellt Ihnen die TayLa-Apartments vor. Unsere Apartments sind Ferienwohnungen in Vodice, in Kroatien an der Adria in Dalmatien.
Vodice-Holidays.com predstavlja TayLa-apartmane. Naši TayLa-apartmani su apartmani u Vodicama u Hrvatskoj na jadranskoj obali u Dalmaciji.
---
TayLa-Apartments - Skopska ul. 1 - 22211 - Vodice - Kroatien
ESPECIALLY FOR YOU!
Here on Vodice-Holidays. com you will find your place for dream holidays at the Adriatic coast in one of the most beautiful holiday areas in Croatia.

Do you know that? You are at work and suddenly your thoughts walk into the distance...
You see beautiful landscapes, crystal clear water and you can almost feel the sun on your skin. At the same time you can almost taste the delicious local food. Moreover, fortunately you are only about two hours away of this dream if you are for example in Germany. So stop dreaming. Book your holiday homes on Dalmatia's Adriatic coast on Vodice-Holidays. com today. Your TayLa-Apartment awaits you in Vodice, one of the most beautiful holiday areas on the Croatian Adriatic coast. In the area around Vodice you will find an impressive spot created by mother nature. And after all, this part of Dalmatia is not only famous for wine and olives.
In front of Vodice and the TayLa-Apartments is located the Kornati archipelago.
The Kornati islands are the largest and densest archipelago in the Croatian Adriatic. The Kornati islands consist of about 150 small islands and reefs, most of which are sparsely overgrown. By the way, the biggest island of the Kornati is called "Kornat". As a result, it once gave its name to the archipelago. Some parts of the archipelago are protected as national parks. Actually, there are 89 islands. Anyway, it must be clearly said that the Adriatic Sea off Vodice offers turquoise shimmering, crystal clear water.
Here on our website Vodice-Holidays we show some great pictures in the category Adria. We took all the photos ourselves. Both above water and under water. Because either near the beach and also in deeper water you can look down to the seabed. This is one of the reasons why the Adriatic Sea on Croatia's coast is famous among locals and holidaymakers.
In short words, the Adriatic Sea in Front of Vodice it is not only great for swimming, but also ideal for snorkelling. Nevertheless, the Adriatic coast around Vodice can make everyone happy. It doesn't matter if you want to be active or if you want to relax for example in a deck chair. Depending on what you like best. Later in the evening you can enjoy the sunset one way or the other, for example with a glass of Croatian wine.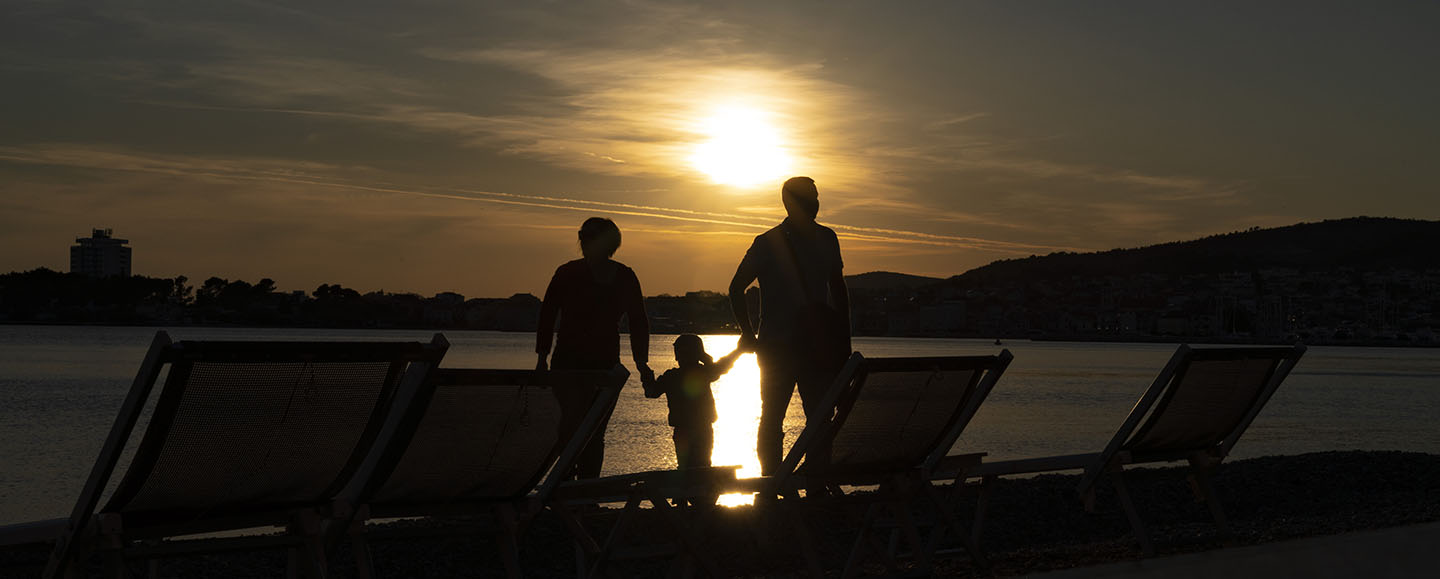 With Vodice-Holidays you will experience unforgettable moments in Vodice and its surroundings!
Are you more interested in beautiful landscapes? Do you like picturesque places? Do you love pebble beaches and natural bays? Then this part of Dalmatia is definitely the right choice. But also those who are looking for an active holiday will find their fulfilment in and around Vodice. For example, when on holiday by bicycle. Choose from more than 2450 km of perfectly prepared cycle routes in the region. There from Vodice start innumerable bicycle routes. If it is even a very special thrill, we can recommend something else. A special bungee jump is possible between Vodice and Šibenik. To do this you jump on the bungee rope from the 40m high bridge over the Krka. In short we have integrated a public video HERE into our Vodice-Holidays website.
By the way, the town of Šibenik is always worth a visit. After all, Šibenik really enchants every visitor with its many sights and irresistible charm. After all, the oldest monuments date back to the 11th century. So that Šibenik today offers a variety of interesting and worth seeing places. On the other hand, it could also be that nature attracts you even more than the sights of an old city? If this is the case, you will find a true natural paradise just outside Šibenik. This is the Krka National Park!
The Krka National Park is a natural wonder that has no equal!

The Krka, famous for its 7 waterfalls, flows through the national park. The most famous of these waterfalls, the Skradinski Buk, is located in the very south of the national park. It is located near the traditional water mills. Here on our Vodice-Holidays Homepage you will find some great recordings in the category Krka. A little further north, a nature trail leads along another large waterfall, the Roški Slap. Furthermore, it passes the monastery of Krka, which was built on old Roman catacombs.
Another special feature is located on the island of Visovac. The "Franciscan Monastery of the Merciful Mother of God"; was already built there in the 15th century. It is still working today. If you are looking for a real nature paradise, don't miss a visit to the Krka National Park. From the TayLa-Apartments to the entrance to the National Park, it is just 20km.
Overall a holiday in one of the TayLa-Apartments really has a lot to offer. Be active or just relax. And if the sun gets too warm for you, jump into the turquoise clear water. Or spend a nice evening in excellent spirits at the local gourmet hotspots. Find with Vodice-Holidays your perfect place with unforgettable moments. Just relax. Enjoy the "Dolce Vita"; the Croatian way.
What are you waiting for?
In TayLa-Apartments you can enjoy your holiday from the very first moment.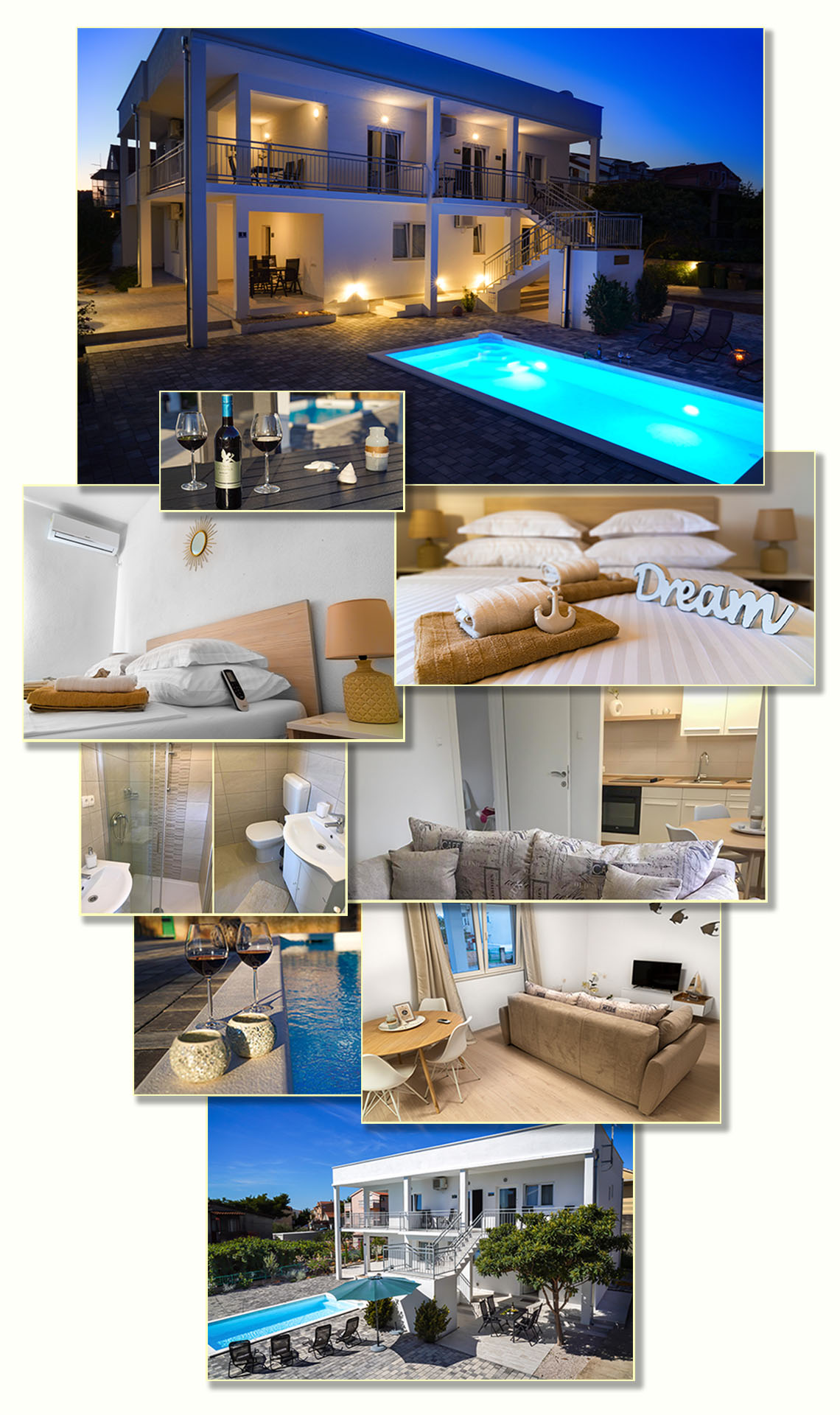 TayLa-Apartments in 22211 Vodice, Croatia:
VODICE*** is a TayLa apartment suitable for up to 6 people

SPLIT*** is a TayLa apartment suitable for up to 4 people

ŠIBENIK*** is a TayLa apartment suitable for up to 4 people

ZADAR*** is a TayLa apartment suitable for up to 4 people

KRKA*** is a TayLa apartment suitable for up to 2 people

PLUS*** is a TayLa apartment suitable for up to 2 people

PLUS II*** is a TayLa apartment suitable for up to 2 people

TAYLA-APARTMENTS ARE WAITING FOR YOU!